Who are we ?
The EPFL Racing Team is EPFL's (Ecole Polytechnique fédérale de Lausanne) electric Formula Student team founded by students in autumn 2017.
Originally named as the Lausanne Racing Team, It has changed its name for the second participation in this international engineering competition.


What is Formula Student ?
Formula student is the biggest student motorsport competition where teams of future engineers from all around the world face each other. The goal is to build an electric race car from scratch according to the competition's regulations. The teams then compete in a variety of events.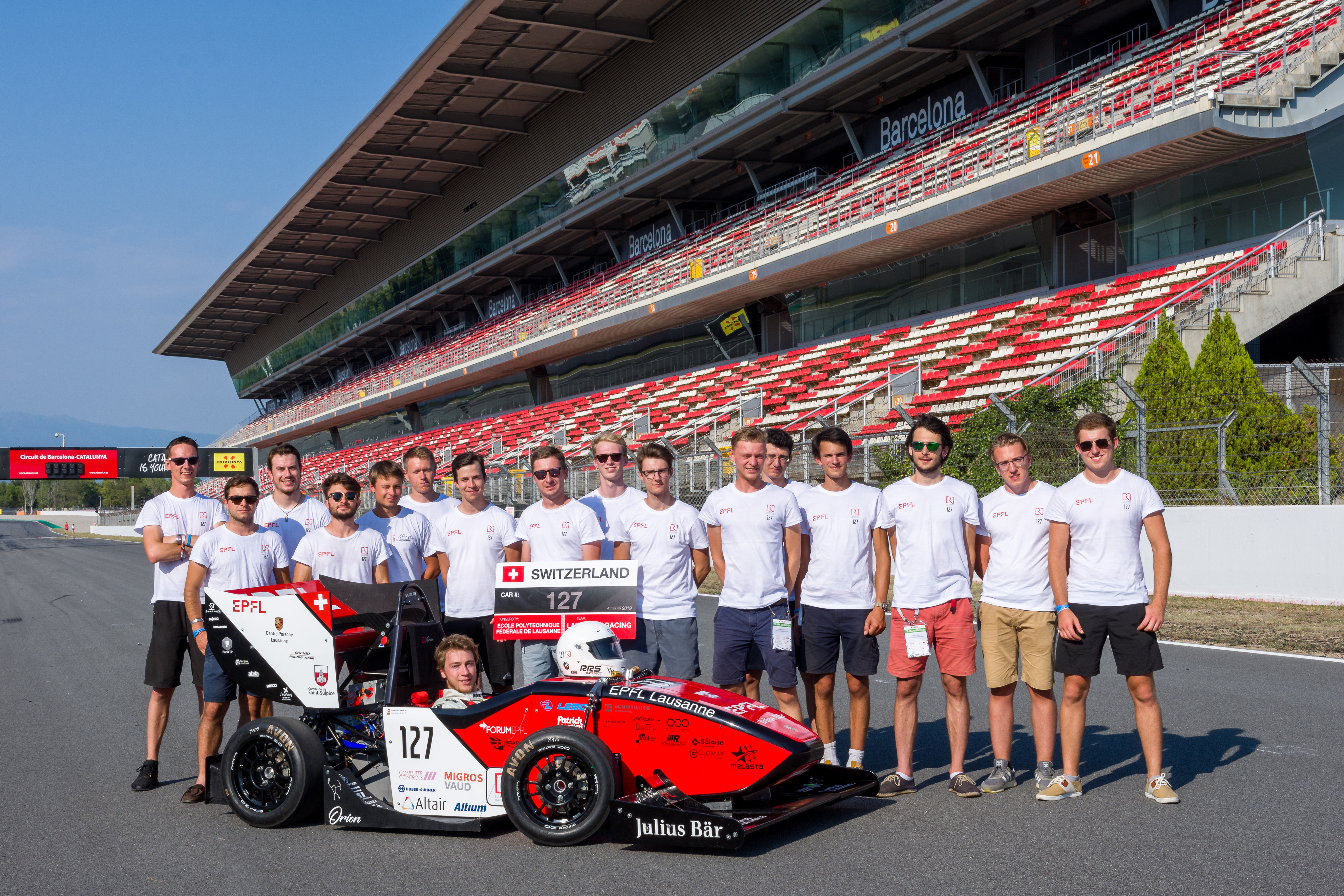 Chassis
The Chassis division is composed of Mechanical Engineering and Material Engineering students. Its goal is to design a light, rigid and ergonomic chassis.
Powertrain
The Powertrain division aims at monitoring energy flows and storage. With Mechanical, Electrical and Micro Engineering students, this division operates the engines, builds the transmission and designs the batteries.
BESS
The BESS division , or Battery Energy Storage System, is responsible for the design of the battery pack. It deals with the selection of the cells, that will be used as well as the mechanical structure that holds everything together.
Vehicle Dynamics
The Vehicle Dynamics division are mainly composed of Mechanical Engineering students. They design and build the steering, suspensions and braking systems.
Aerodynamics
The Aerodynamics division is largely composed of Mechanical Engineering students. They are in charge of designing an aero kit to improve the performance of our car by reducing drag and increasing downforce.
Electronics
The Electronics division is composed of Electrical Engineering and Micro Engineering students. Their purpose is to implement all the electronic circuits of the car, as well as to ensure the smooth operation of our multiple sensors.
Driverless
The Driverless department is largely composed of students in Communication Systems and Computer Science. Their objectives are to automate the car for future competitions that will be created in 2022.
How can you help us ?
In order to reach our goals, we need some partners. If you are interested by our project and you want to help us, two alternatives are possible :
The Friends of the Racing Team
In order to let anyone help us in this project, we created the "Friends of the Racing Team" program. This crowdfunding will allow us to pay for details that cannot be part of a sponsoring partnership. Become today a Friend of the Racing Team and join us in this great adventure !
Sponsoring
The Formula Student is an ideal technologic showcase. Becoming a partner of the EPFLRacingTeam will guarantee for you a visibility in one of the leading international design competition as well as in one of the highest ranked university. Join now our partners and support this wide project !