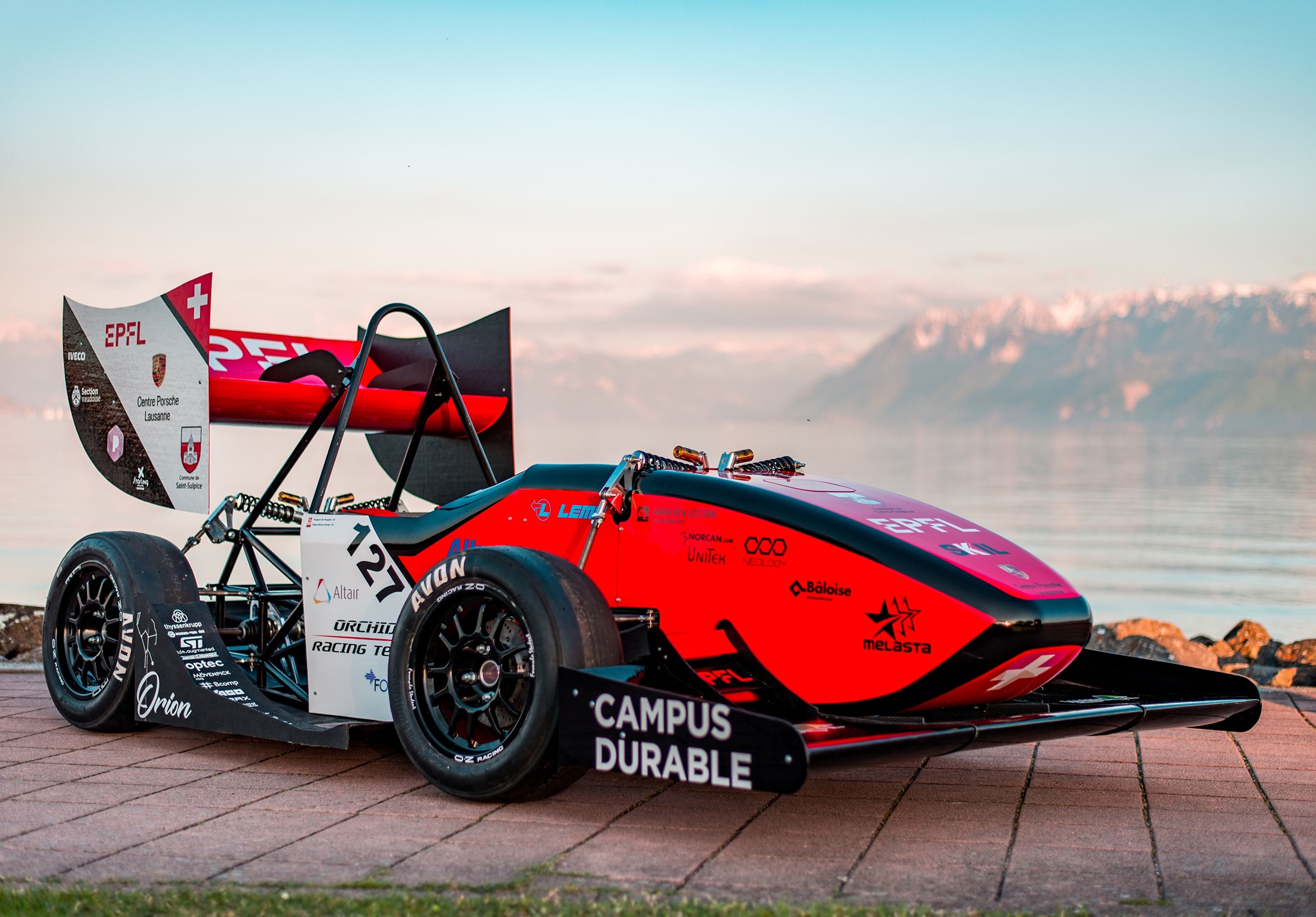 The Lausanne Racing Team is a rookie Formula student team in 2019. It gathered 50 people around this project. For its first season Orion went racing in Germany at Hockenheim and in Spain at Barcelona. The design focus was on reliability in order to build a solid basis for the years to come. It is also a more environmental friendly EV thanks to the use of flax fiber for most of the composites.
FRAME CONSTRUCTION Tubular space frame
MATERIAL E235 steel Tubing (round 25mm diameter and square 25x25mm)
OVERALL (L / W / H) 3002mm / 1432mm / 1200mm
WHEELBASE / TRACK (Front / Rear) 1570mm / 1250mm / 1250mm
WEIGHT WITH 68kg DRIVER (Front / Rear) 150kg / 196kg
SUSPENSION Double unequal length A-Arm. Push rod actuated horizontally oriented spring and damper
TYRES (Front / Rear) Avon 7.2/20.0-13 / Avon 7.2/20.0-13
WHEELS (Front / Rear) 7×13, 22mm offset, Al Rim, 4 stud bolt / 7×13, 22mm offset, Al Rim, 4 stud bolt
NUMBER OF MOTORS / LOCATION / MAX POWER   1 / Rear / 100KW
MOTOR TYPE Emrax 228
MAX MOTOR RPM 6000
MOTOR CONTROLLER Unitek Bamocar D3 700
MAX SYSTEM VOLTAGE 600V
ELECTRODE MATERIALS LiPo
COMBINED ACCUMULATOR CAPACITY 8.65 kWh
TRANSMISSION RATIO (PRIMARY / SECONDARY) 1 / 4,03
DRIVE TYPE 520 & 530 X-ring chain
DIFFERENTIAL Ajustable clutch pack limited slip diffe- rential
COOLING Single radiator, with fan on main-hoop bracing
BRAKE SYSTEM 4-Disk system, self made 220mm rotors,adjustable brake balance, AP racing calipers
ELECTRONICS Traction control, launch control, self developed BMS
Ils nous ont fait confiance pour la saison 2019 :
Work in Progress
A new team was recruited to work on the 2020 prototype. As of today, it cannot be revealed yet. Follow the progress on the social medias to ba aware of the official presentation date of this second car build at EPFL.