Our cars
Discover Technology and Teamwork as One
A HANDS ON STUDENT PROJECT
Under the umbrella of MAKE Projects in the EPFL, the EPFL Racing Team is among the biggest scale projects made on campus. For the members of the team, Formula Student is an excellent way to put into practice everything learned in theoretical courses during the many semesters of their university careers. These students are either designing systems from scratch or improving systems tested on previous cars. From software to hardware, each part is made to perform best on track. These single seaters being composed of numerous complex interconnected systems, this project is highly interdisciplinary and brings students from many engineering specialties together. By the end of their experience as part of the EPFL Racing Team, every member gains key practical and theoretical skills through building the engineering marvels that these race cars are! 
ARIANE
We are thrilled to introduce our latest masterpiece: Ariane. In a remarkable evolution, Ariane now boasts state-of-the-art self-driving capabilities, elevating her performance to unprecedented heights. This advancement signifies a bold stride into uncharted territory.
We are excited to announce that Ariane will be a formidable contender in the upcoming competitions. She is set to impress at FS Switzerland, FS Czech Republic, FS East, and FS Germany. This venture not only underscores our commitment to excellence but also reflects our team's relentless innovation.
As we step into this new phase, we eagerly anticipate the challenges and triumphs that lie ahead.
ARTEMIS
Building upon the experience gained over the past seasons, we embarked on constructing our third car: Artemis.
Equipped with the first hybrid monocoque, this car represents a major breakthrough towards new horizons. With advancements in torque vectoring and regenerative braking, Artemis promises to be more robust, safer, and more efficient than our previous cars.

The team participated in the FS Switzerland in Zurich, FS East at Hungaroring, FS Germany at Hockenheim, and FS Spain near Barcelona.
Mercury
The 2019 season's battle-hardened team went to work on building the team's second car: Mercury, which was completed in 2021. The new insider knowledge permitted us to improve the technology in the car, notably turning to composite fibre for the body and aero kit, as well as developing the electronics. Due to the COVID-19 pandemic, the 2020 FS racing season was cancelled, and the team had an extra year to perfect the design and manufacture. Although there were times quarantine prevented active work on the car, eventually the team again came together to build, in our new lab space on the EPFL Campus. Mercury went to FS Czech Republic, FS East and to FS Germany. Overall, the team celebrated a rule-compliant car which successfully completed the team's first Endurance race on the Hungaroring in FS East! Since the competitions, Mercury has been used for testing: mainly checking the aero kit and verifying its maximum capacities. Now, it is being reutilized by the Driverless division to become the EPFL Racing Team's first autonomous car.
FACT SHEET OF ORION
FRAME CONSTRUCTION Tubular space frame
MATERIAL E235 steel Tubing (round 25mm diameter and square 25x25mm)
OVERALL (L / W / H) 3002mm / 1432mm / 1200mm
WHEELBASE / TRACK (Front / Rear) 1570mm / 1250mm / 1250mm
WEIGHT WITH 68kg DRIVER (Front / Rear) 150kg / 196kg
SUSPENSION Double unequal length A-Arm. Push rod actuated horizontally oriented spring and damper
TYRES (Front / Rear) Avon 7.2/20.0-13 / Avon 7.2/20.0-13
WHEELS (Front / Rear) 7×13, 22mm offset, Al Rim, 4 stud bolt / 7×13, 22mm offset, Al Rim, 4 stud bolt
NUMBER OF MOTORS / LOCATION / MAX POWER   1 / Rear / 100KW
MOTOR TYPE Emrax 228
MAX MOTOR RPM 6000
MOTOR CONTROLLER Unitek Bamocar D3 700
MAX SYSTEM VOLTAGE 600V
ELECTRODE MATERIALS LiPo
COMBINED ACCUMULATOR CAPACITY 8.65 kWh
TRANSMISSION RATIO (PRIMARY / SECONDARY) 1 / 4,03
DRIVE TYPE 520 & 530 X-ring chain
DIFFERENTIAL Adjustable clutch pack limited slip diffe- rential
COOLING Single radiator, with fan on main-hoop bracing
BRAKE SYSTEM 4-Disk system, self made 220mm rotors,adjustable brake balance, AP racing callipers

ELECTRONICS Traction control, launch control, self developed BMS
Orion
The team first competed in 2019 with our car: Orion. At this point, the rookie team was formed of around fifty students. This first car was a major challenge, it had to be reliable : reducing the risk of electrical or mechanical failure. If this was achieved, the experiment of building a car for the first time would open the doors for future vehicles and competitions! The team completed a functioning and sturdy car with a complete aero kit, although the car was lacking in electronics, with in-house AMS and safety circuits that were not on point. We went to FS Spain in Barcelona and FS Germany in Hockenheim, although without much success. The most important thing was that the team had learned the true undertaking that making a Formula Student Car is. Additionally, we learned a vast understanding of the teamwork such projects require, as well as how to collaborate to tightly integrate all components of the car and the business. 
FACT SHEET OF MERCURY
FRAME CONSTRUCTION Tubular space frame
MATERIAL Steel, 32kg
OVERALL (L / W / H) 3065mm / 1540mm / 1185mm
WHEELBASE / TRACK (Front / Rear) 1570mm / 1240mm / 1200mm
WEIGHT 223.5kg
SUSPENSION (Front / Rear) Double A-arms carbon suspension, pullrod / pushrod
TYRES  Hoosier 43075 R25B 16.0 x 7.5-10
WHEELS (Front / Rear) 10" OZ magnesium rims with centerlock
NUMBER OF MOTORS / LOCATION / MAX POWER   2 / Rear / 52KW each
MOTOR TYPE Emrax 188
MAX MOTOR RPM 6500 rpm
MOTOR CONTROLLER Unitek Bamocar D3 400
MAX SYSTEM VOLTAGE 403V
ELECTRODE MATERIALS LiPo
COMBINED ACCUMULATOR CAPACITY 8.3 kWh
TRANSMISSION RATIO (PRIMARY / SECONDARY) 1 / 4,5
DRIVE TYPE Single stage planetary gearbox
DIFFERENTIAL Electronic differential with torque vectoring
COOLING Water cooled
BRAKE SYSTEM regen, adjustable brake balance, 175 mm self made floating discs
FS SWITZERLAND
We secured two podiums in the static events, bearing witness to our team spirit and innovation. Although we couldn't complete the dynamic events this time, our perseverance was evident until the last minute.
FS East
1. August – 5. August
FS Czech
7. August – 12. gust
FS Germany
14. August – 20. August
Resultats
Cost and Manufacturing – 3rd place
Engineering design –            3rd place
Resultats
Wish us good luck ! 
Resultats
Wish us good luck ! 
Resultats
Wish us good luck ! 
COMPETITIONS WITH ARTEMIS
FS SWITZERLAND
Unortunately the spoiler deflection was slightly greater than that allowed by technical inspection therefore the front spoiler was removed for dynamic tests. 
FS East
At our second competition on the mythical circuit of Hungaroring technical problems prevented us from finishing the endurance race a few meters from the finish line.
FS GERMANY
This was the toughest competition against some of the best teams. Our team worked hard throughout the competition to solve the technical problems. We are very proud of our results.
FS SPAIN
Heavy rain was falling during the whole competition. Therefore several events had to be held on wet track, which was an additional challenge for our team.
Resultats
Autocross – 1st place
Skipad – 2nd place
Engineering design – 1st place
General ranking – 4th in 15
Resultats
Business Plan – 3rd place
General ranking – 14th in 33
Resultats
Endurance – 11th place
General ranking – 31st in 66
Resultats
Business Plan – 1st place
General ranking – 11th in 38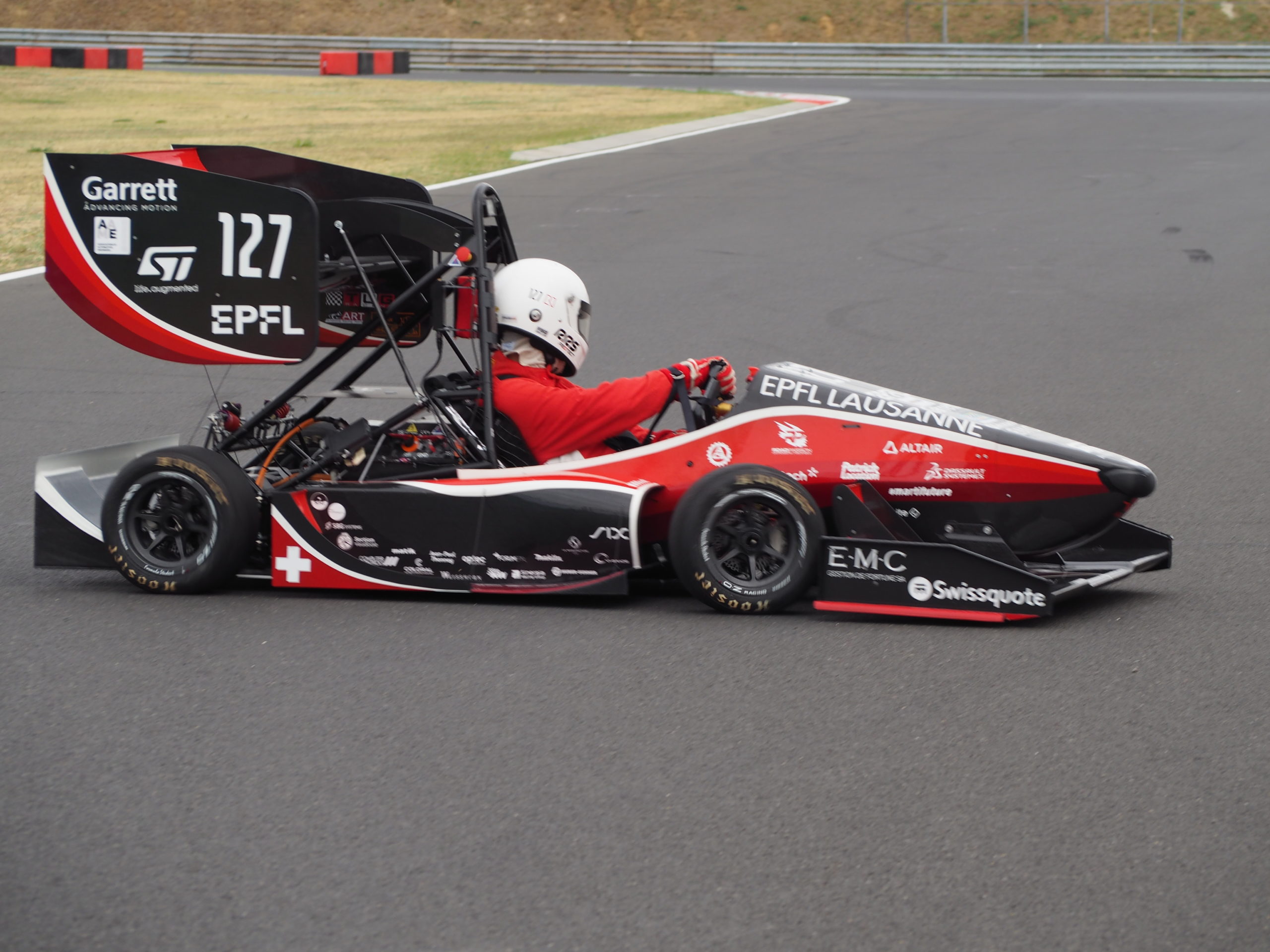 COMPETITIONS WITH mERCURY

FS CZECH REPUBLIC
The first competition the team has participated in in two years was a success. The team encountered a few obstacles during the inspections, including the flat floor that had to be removed. However, the EPFL Racing Team won the Scrutineering Stars award – the award for the best technical inspection.
FS EAST
On the legendary Hungaroring the team again faced challenges with certain aspects of the car, but ended up making EPFLRT history by finishing in Endurance.
FS Germany
The competition at Hockenheim is the most prestigious and demanding. THE EPFL Racing Team was confronted with many unforeseen events throughout the week. Nevertheless, we managed to participate in all the events. 
Resultats
Autocross – 3rd place
Classement général – 5th place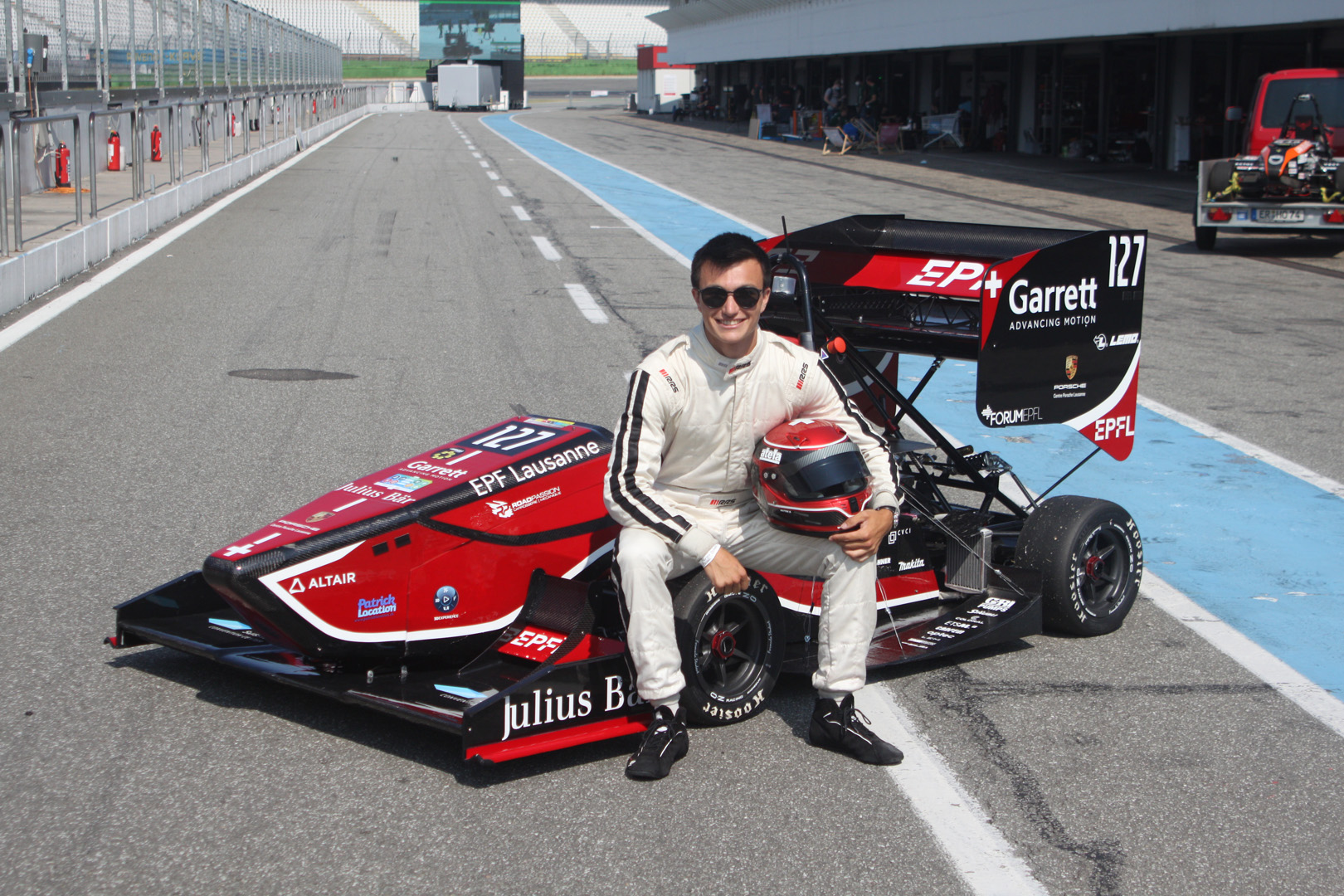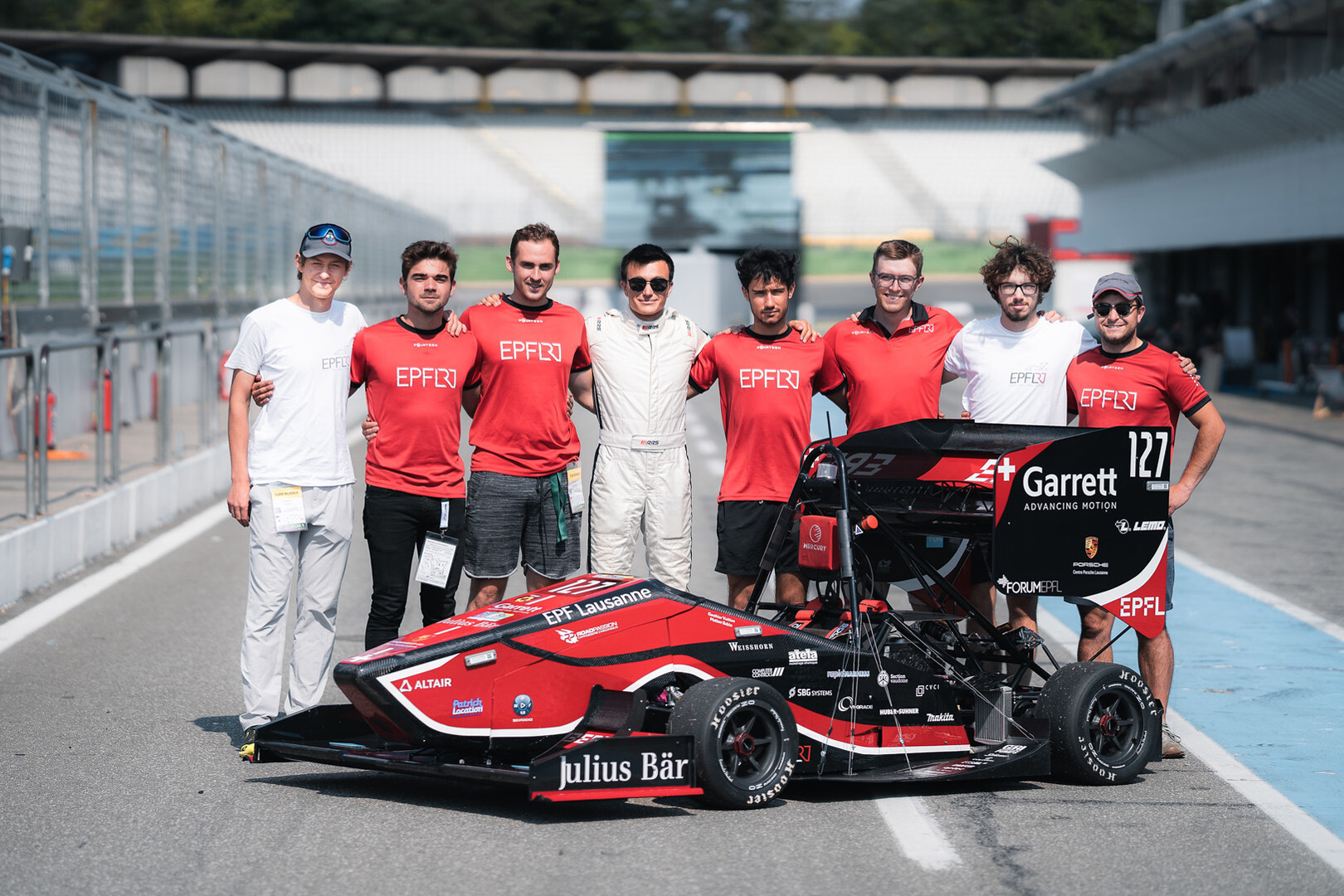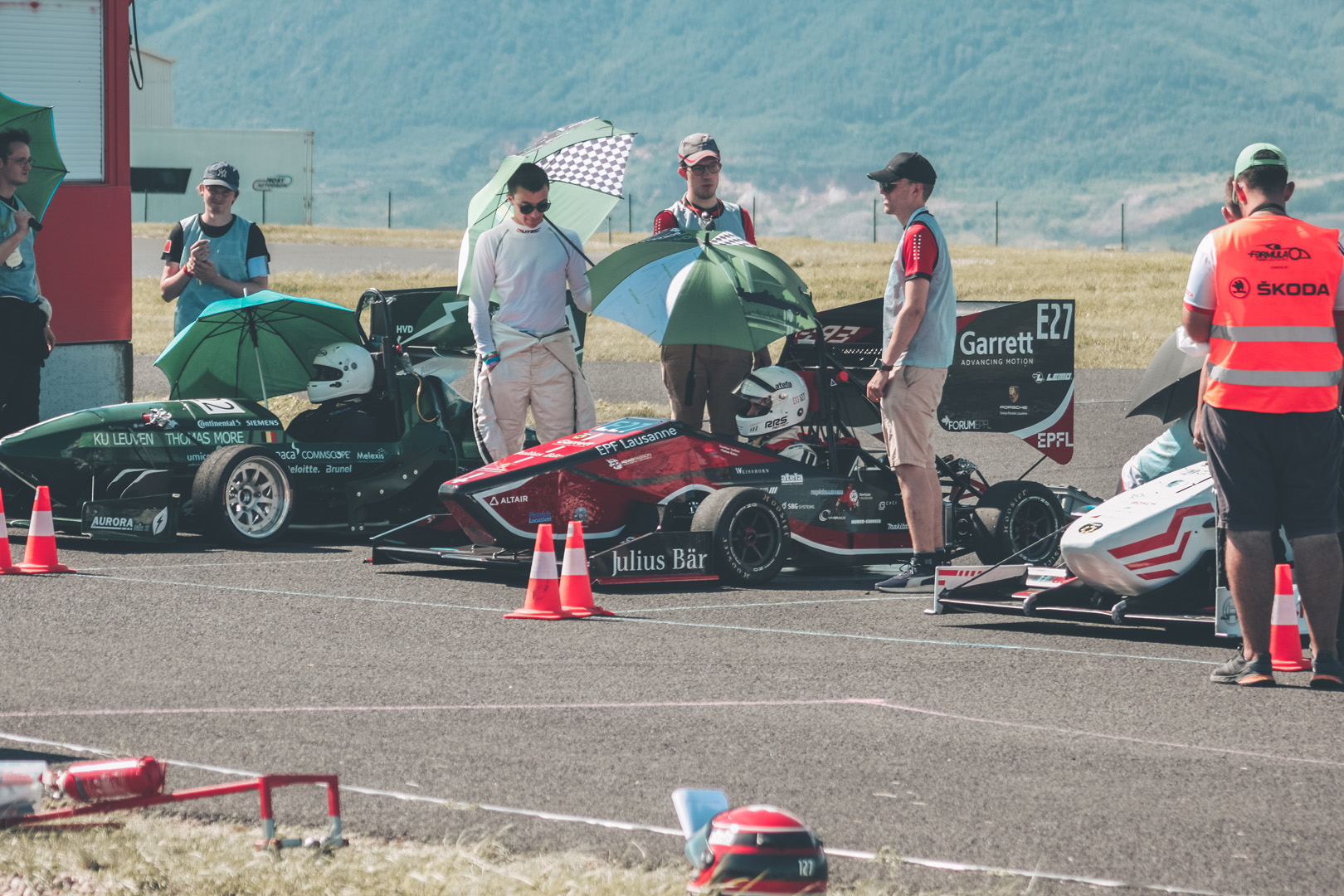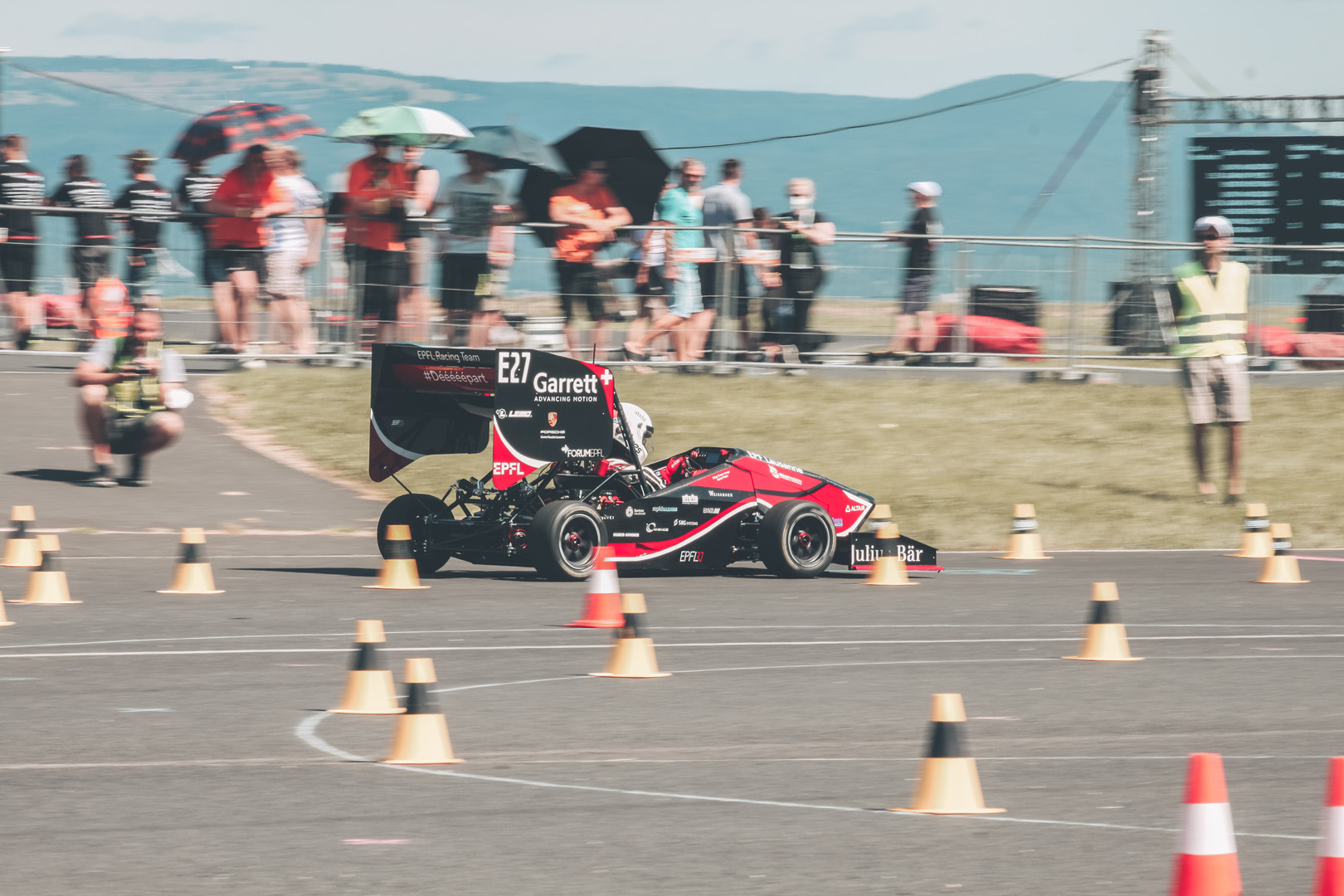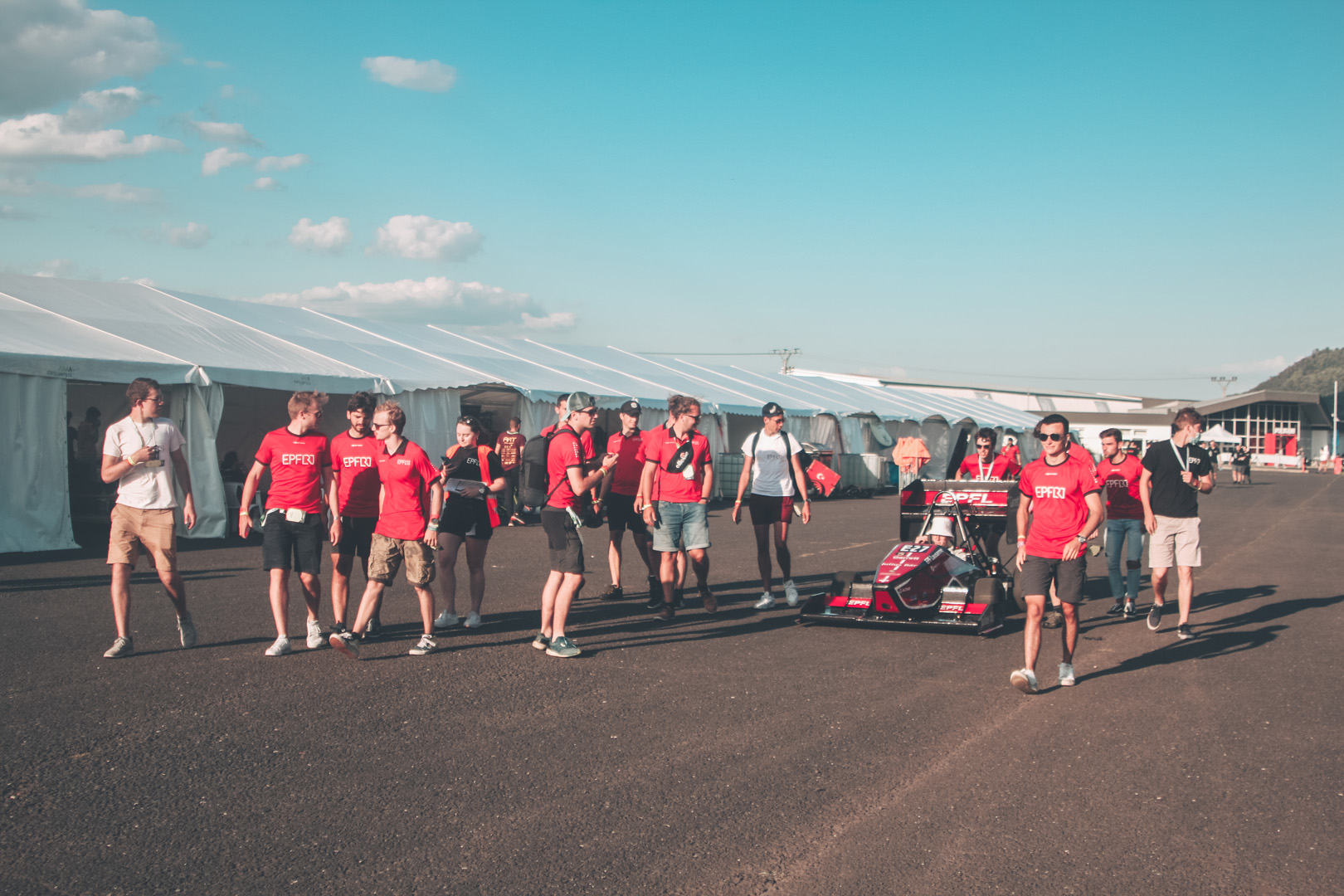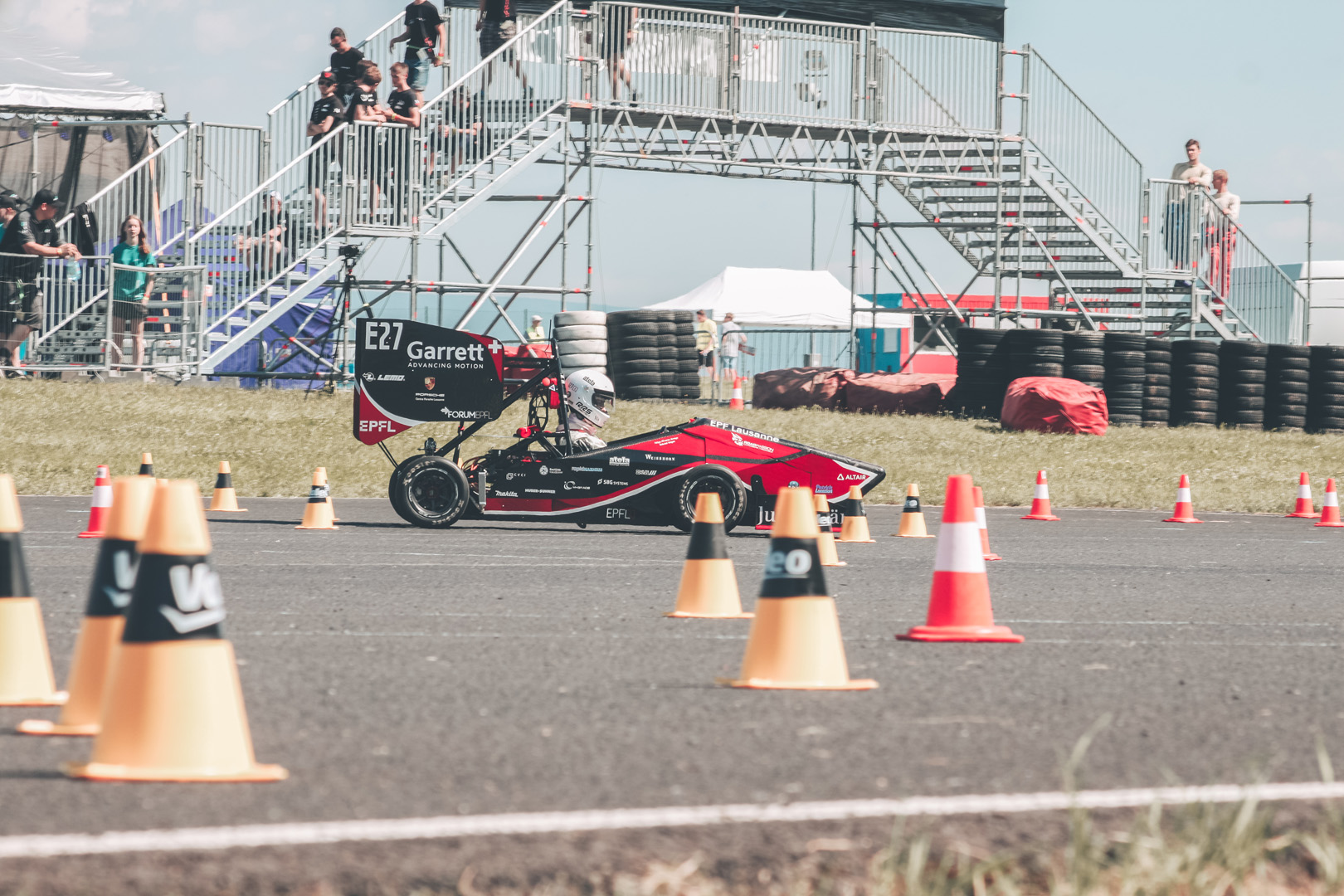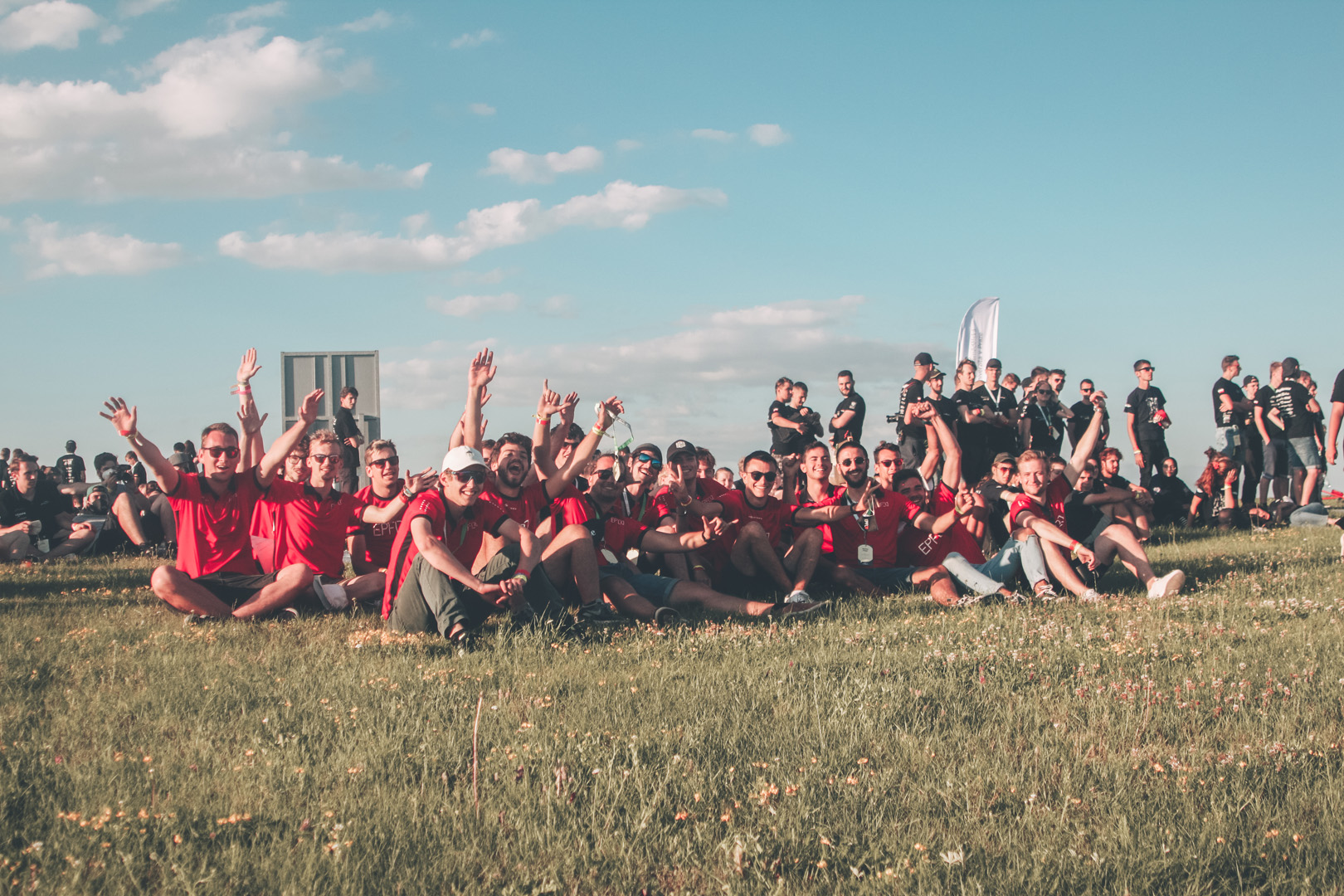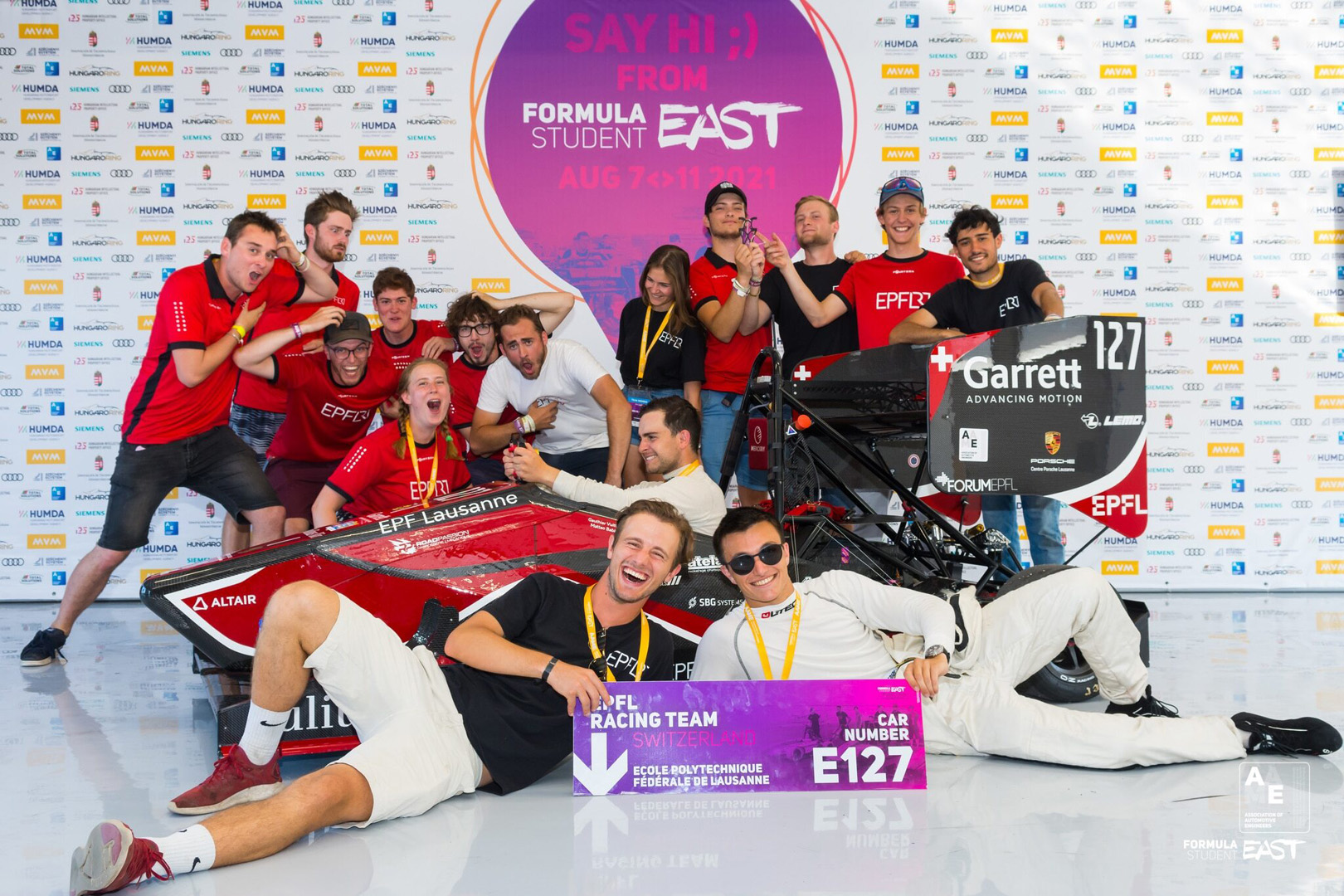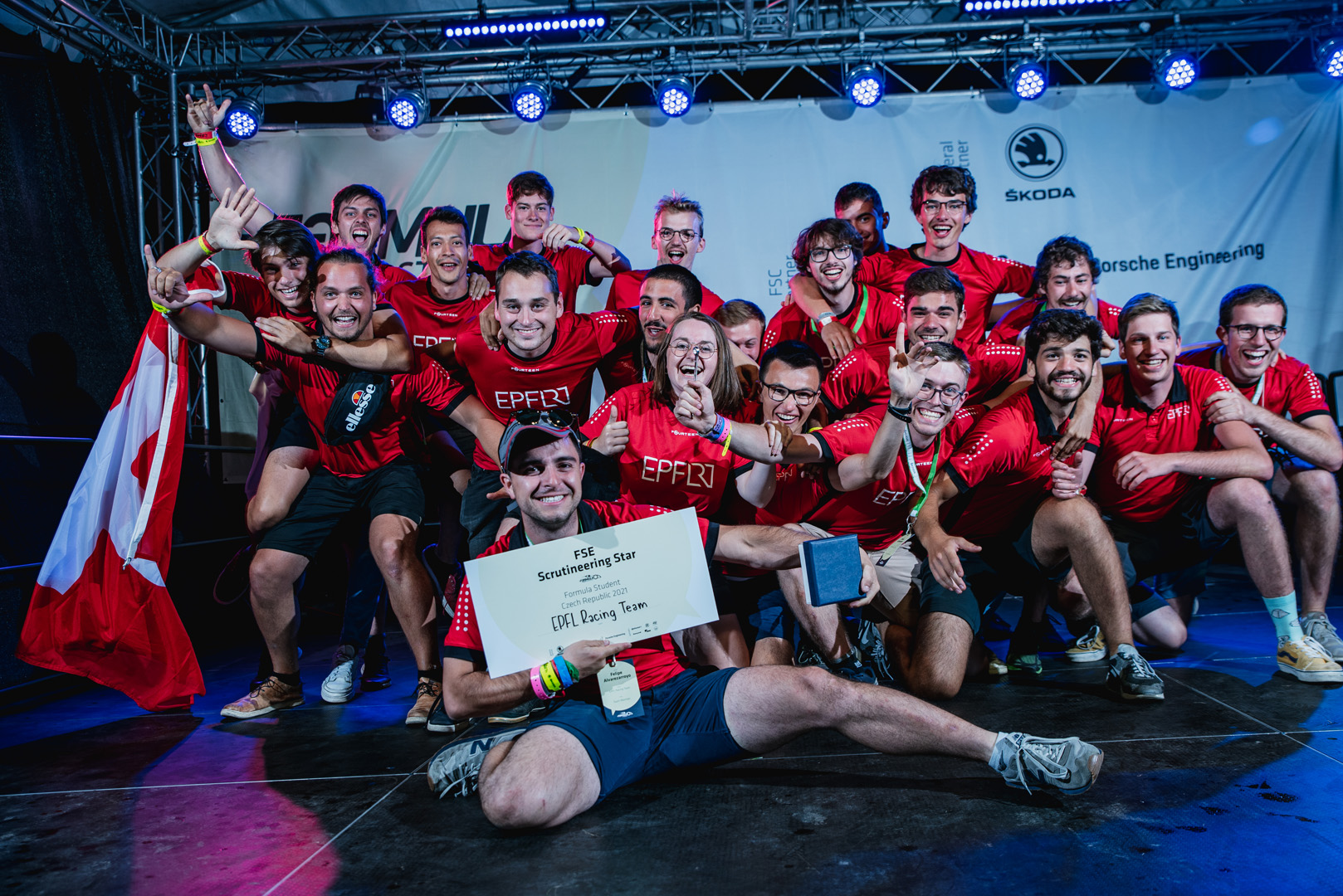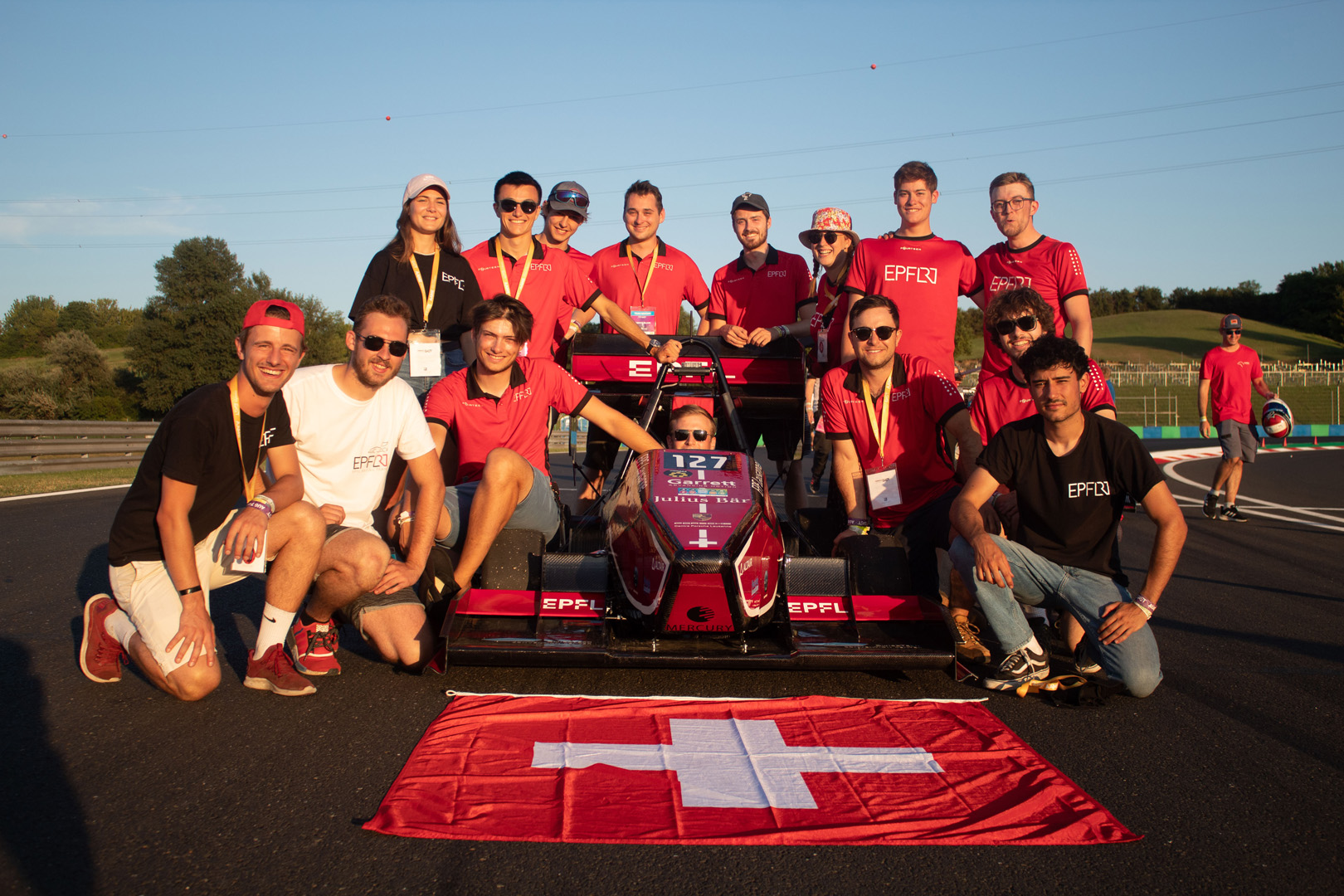 DOn't forget to stay tuned!
We regularly update our social media. You will never miss an event!